UWELL CALIBURN GK2 IN PAKISTAN:
The KOKO PRIME series has been enhanced with the Uwell Caliburn GK2 Kit. at regular prices of Rs: 6799/=. It has a futuristic and cyberpunk design with an eye-catching exterior and a maximum output of 18W. This device is powered by an integrated 690mAh battery and holds 2ml of nic salt and freebase e-liquid. It also has an e-liquid window on the side so you can see how much liquid is left.
You may reload using the top filling method without removing the pod cartridge. You will like the dynamic vibration interaction that it exhibits as it vibrates between various working stages and awakens at various power levels. It uses a plug-and-play installation method and is compatible with the CALIBURN G2 1.2 ohm mesh coil, CALIBURN G 0.8 ohm mesh coil, and CALIBURN G 1.0 ohm coil. The adjustment wheel is used to fine-tune the airflow before flavour emerges on its own. It inherited delicateness and compactness from its zinc alloy construction.
The Caliburn Koko Advance Series combines the features of the Caliburn G2 and the Caliburn Kokoko Prime, and the name is similar to the Caliburn Ak2. It also has a unique function of light-changing technology and vibrates in different states.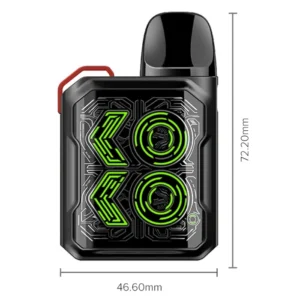 After the caliburn KOKO series, the Uwell Caliburn GK2 Pod System is a brand-new and improved model. It has a fantastic, modern design with the newest features, and it also offers a better vaping experience. Background flashing lights and cyberpunk architecture inspire endless future fantasies.
Overall, the four-color CALIBURN GK2, which has UWELL Pro-Focus taste adjustment and Un-fecral coil technology, will cloud your day.
UWELL CALIBURN GK2 Features: 
Upgraded Version Of The KOKO PRIME Series
Cyberpunk, Steampunk, and Futuristic
Max 18W Output
690mAh Integrated Battery
2ml Vape Juice
for Nic Salt and Freebase E-liquid
E-liquid Window
op Filling System
Dynamic Vibration Interaction
LED Indicator Light
UWELL Pro-Focs Flavor Adjustment Technology
FeCrAI UN2 Meshed-H 1.2Ω CALIBURN G2 Coil
FeCrAI UN2 Meshed-H 0.8Ω CALIBURN G Coil
Adjustment Airflow Wheel
Zinc Alloy Material
Uwell Caliburn GK2 Kit SPECIFICATION:
Dimensions: 72.2mm * 46.6mm * 16.3mm
E-liquid Capacity: 2ml
Weight: 45.2g
Output: 18W
Battery: 690mAh
Materials: PA, PC+ABS, Silicate Glass
Coils:
FeCrAI UN2 Meshed-H 1.2Ω CALIBURN G2 Coil (Pre-installed)
FeCrAI UN2 Meshed-H 0.8Ω CALIBURN G Coil (Spare)
Uwell Caliburn GK2 Kit PACKAGE LIST:
1 x Caliburn GK2 Pod System
1 x 1.2ohm UN2 Meshed-H Coils
1 x 0.8ohm UN2 Meshed-H Coils
1 x User Manual
1 x Type-C Charging Cable
1 x Lanyard
Product Infographics: