Lychee Dragon's main aroma profile is strawberry, lychee and dragon fruit. All flavors are strengthened and combined as you exhale.
Enter Lychee Dragon! A unique flavor profile that actually works. Fresh dragon fruit with a touch of juicy lychee on the inhale and a delicate strawberry blend on the exhale.
The overall vaping experience is incredibly smooth. There are 3mg and 6mg of nicotine. The ratio is 70VG/30PG, which gives great flavor and huge clouds. This vape juice is highly recommended for fruit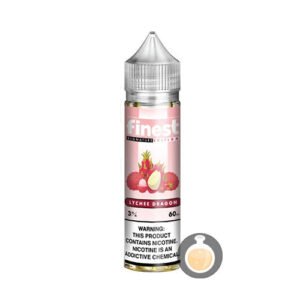 The Finest E-Liquid – Signature Edition – Lychee Dragon Features:
60mL Unicorn Bottles
30% PG
70% VG
Made in USA
Available in 3mg, 6mg
Manufactured by The Finest E-Liquid
CALIFORNIA PROPOSITION 65 – Warning: This product contains nicotine, a chemical known to the state of California to cause birth defects or other reproductive harm.