SMOK NORD 50W POD KIT :
The SMOK Nord 50W Kit builds on the excellent and consistent performance of the SMOK NORD series. It has an integrated 1800mAh battery that can deliver up to 50W of power to your delight. In order to offer mouthwatering flavour and copious amounts of vapour, the kit comes with two adaptable pods that function well with the enhanced airflow system.
One is the Nord pod, compatible with the Nord coil series, and the other is the LP2 pod, with enhanced leak-proof technology suitable with the LP2 coil series.
Based on the timeless design, the Nord 50W develops into two collections with a range of colours and luxurious materials to suit your mood. The vaping experience constantly evolving thanks to innovation.
The rechargeable battery delivers a high level of usage and may last the entire day without any problems thanks to its inbuilt 1800mAh battery capacity. The bottom Type-C USB Port is used for charging, and when necessary, it may swiftly recharge the battery.
The white LED light's frequency of flashing can indicate different function protections and provide information about the condition of the Nord 50W device.
A welcome adjustable airflow control, optimum wattage, and long-lasting battery are all features of the SMOK Nord 50W kit. Thus, the new Nord 50W is the Nord for which we have been waiting.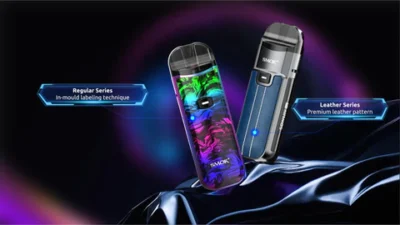 Nord 50W SPECIFICATIONS:
Nord 50W (Regular Series)
Size: 31* 22.6* 97mm
Weight: 93g
Output Wattage: 5W-50W
Battery Capacity: 1800mAh
Standby Current: < 50uA
Input Voltage: 3.3V-4.2V
Output Voltage: 0.5V-4.0V
Resistance Range: 0.2Ω-3.0Ω
Charging Voltage: 5V±0.2V
Charging Current: 1.2A (Max)
Overcharge Voltage: 4.3V±0.05V
Overdischarge Voltage: 2.4V±0.03V
Overcharge Current: 1.75A±0.6A
Nord 50W (Leather Series)
Size: 32* 23.9* 98mm
Weight: 95g
Output Wattage: 5W-50W
Battery Capacity: 1800mAh
Standby Current: < 50uA
Input Voltage: 3.3V-4.2V
Output Voltage: 0.5V-4.0V
Resistance Range: 0.2Ω-3.0Ω
Charging Voltage: 5V±0.2V
Charging Current: 1.2A (Max)
Overcharge Voltage: 4.3V±0.05V
Overdischarge Voltage: 2.4V±0.03V
Overcharge Current: 1.75A±0.6A
THE KIT INCLUDES:
1 x nord 50W Device (1800mAh)
1 x nord 50W LP2 Pod (LP2 Meshed 0.23Ω DL Coil Preinstalled) (4ml)
1 x nord 50W nord Pod (nord Regular DC 0.6Ω Coil Preinstalled) (4.5ml)
1 x Type-C Cable
1 x User Manual