Citrus Strawberry Ice by BLVK Fusion Salt E-Liquid 30ml featuring a nicotine salt blend of sweet strawberry with a twist of citrus on ice that will refresh the senses.
Liquid Citrus Strawberry Ice combines the sweet and sour taste of summer vines. On your first scent you will see a delicious ripe strawberry flavor and a delicious soft note, this is paired with a zingy lemon and citrus exhale.
When it smells, Citrus Strawberry Ice gets there with the taste of freshly picked fresh strawberry. As sweet strawberry notes fall on your tongue, your mouth will remain watery. The precise tartness from lemon and other citrus fruits will make you feel like you are in heaven. When you exhale, the sour taste of citrus fruits becomes stronger as your thirst quenches.
Unlike the previous BLVK series of BLVK Pink Series and BLVK Unicorn Series, the flavors of the BLVK Fusion Series are now composed of Non-Tobacco Nicotine, a synthetic nicotine not found in tobacco leaves. This may result in a different experience as TFN can reduce the aggressive profile usually in standard E-Liquids.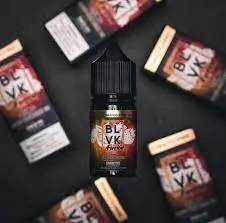 BLVK FUSION CITRUS STRAWBERRY 30ML Features
• Bottle Size – 30mL Unicorn Bottle
• VG/PG Ratio – 50VG/50PG 
• Available Nicotine – 35mg | 50mg