Delight in the mentholated creation of FRZNPINA, combining notes of tangy pineapple enhanced with a gust of menthol for a deliciously refreshing fruit vape.
BLVK Unicorn FRZN Pina 60ml Comes with low tones of freshly squeezed pineapple soaked with a subtle touch of menthol ready to quench your thirst and refresh your mind.
The BLVK Unicorn FRZNPINA in Liquid is available in a 60ml unicorn bottle with a base of 70/30 VG / PG that allows you to feel the tropical throat menopause with a little mentholated while producing those thick and large clouds that you can chase. If you are a vape lover looking for a combination of spices that will capture your taste on the go, look no further than this soft and cool formula.
BLVK Unicorn in Liquid delivers a combination of individual flavors assigned to the purpose. Cool, unique and more hot trends without sacrificing the quality of their products or integrity.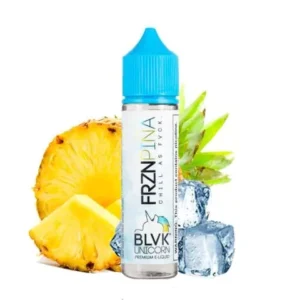 BLVK Unicorn – FRZNPINA – 60mL Features:
60mL Chubby Unicorn Bottle
CALIFORNIA PROPOSITION 65 – Warning:
This product contains nicotine, a chemical known to the state of California to cause birth defects or other reproductive harm.