Lychee Nicotine Salt by BLVK Unicorn is a blast of sweet lychee with a hit of cool menthol creates an explosion of fruity and chill flavor like you never experienced before.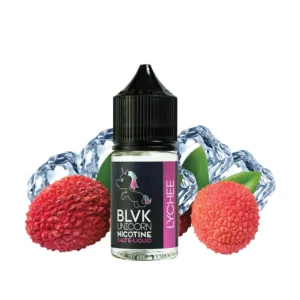 LVK Unicorn SALT – Lychee Features:
30mL Unicorn Bottle
Nicotine Salts Formulation
Crafted For Ultra-Low Wattage & Pod-Based System
Available Nicotine: 35mg
Made in USA
Warning
This product is not intended for use on sub-ohm resistant devices. We recommend that this liquid be used on pod-based devices, closed systems, and atomizer / mods that run very slowly. All salt-based nicotine juice contains very high nicotine levels per milliliter, suitable for beginners or experienced vapers who want a ready-to-go experience.
Lychee Nicotine Salt by BLVK Unicorn is a blast of sweet lychee with a hit of cool menthol creates an explosion of fruity and chill flavor like you