BLVK PINK SERIES – ICED BERRY PEACH SALT – 30ML
Check out ICED Berry PEACH SALT by BLVK Unicorn, a nicotine salt blend of sweet strawberries enhanced with luscious peach nectar and refreshing menthol. 
BLVK Pink Series ICED Berry Peach is a blend of berries and refreshing peaches to create a deliciously nutritious flavor. The combination of the two is complimented by a glowing burst of menthol to make it a pleasant all day long.
Whether you are looking for a new collection of new flavors to try, or an avid fan of always knowing what the trend is, the BLVK pink collection is one of the most popular collections you can start with and how to get a little more. a bit of it all. Smooth sales, frozen flavor, and respect for pop culture, will not disappoint.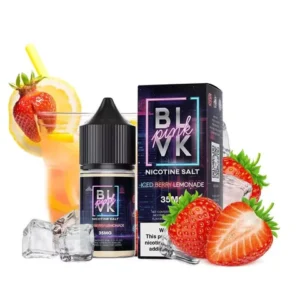 Warning:
This product is not meant for use in devices that reach sub-ohm resistance. We recommend this liquid to be used in vape pod system and ultra low-output atomizers/mods. Every nicotine salts e-juice contains significantly higher levels of nicotine per milliliter, optimal for beginners or experienced vapers looking for a travel-friendly experience.
BLVK Unicorn – BLVK Pink Series – ICED Berry PEACH SALT Features:
30mL Chubby Unicorn Bottle

50% PG

50% VG

Nicotine Salts Formulation

Crafted for Ultra-Low Wattage & Pod-Based System

Made in USA

Available nicotine: 35mg, 50mg
CALIFORNIA PROPOSITION 65 – Warning:
This product contains nicotine, a chemical known to the state of California to cause birth defects or other reproductive harm.