SMOK NFIX-Mate 25W 1100mAh Pod Starter Kit System in Pakistan
SMOK NFIX-Mate 25W 1100mAh Pod Starter Kit System, featuring an 1100mAh battery, 1-25W range, and is compatible with NFIX Meshed and DC MTL Pods. Constructed from durable zinc-alloy, the chassis of the NFIX-Mate is impervious to light falls and drops. Incorporating a sizeable 1100mAh Battery within, the SMOK NFIX-Mate Pod System can deliver plenty of power to the installed pod at the top. Compatible with the NFIX Pod Series, the pods can hold up to 3mL of eJuice or nicotine salts within and offer a 0.8ohm Meshed or DC MTL pod that is sure to deliver plenty of flavor or vapor, depending on the installed pod. Operating off a draw-to-fire mechanism, the SMOK NFIX-Mate is easy to use and is manufactured with a lanyard attachment point to accommodate those that are on-the-go.
Check out the SMOK NFIX-Mate infographic to help you better understanding how the product works!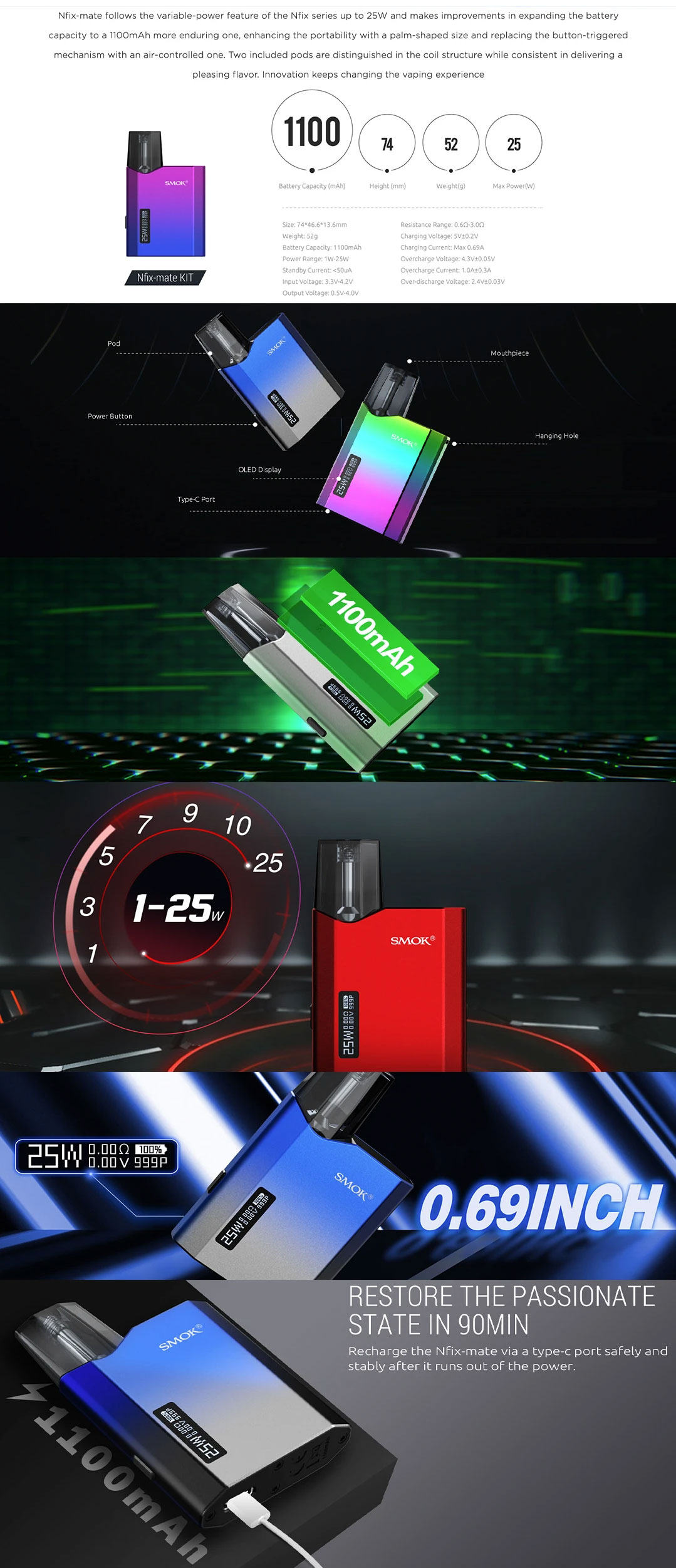 SMOK NFIX-Mate 25W Pod System Features:
Dimensions – 74mm by 46.6mm by 13.6mm
Integrated 1100mAh Rechargeable Battery
Wattage Output Range: 1-25W
Voltage Output Range: 0.5-4.0V
Resistance Range: 0.6ohm-3.0ohm
Zinc-Alloy Chassis Construction
Draw-Activated Firing System
OLED Display Screen
Power Button – Wattage Adjustment
Lanyard Attachment Point
3mL NFIX Pod Series
0.8ohm Meshed Pod
0.8ohm NFIX DC MTL Pod
Side Fill System
Magnetic Pod Connection
Low Battery Protection
Atomizer Resistance Protection
Short-Circuit Protection
Vaping Overtime Protection
Type-C Protection
Available in Silver, Black, Red,
Includes
1 NFIX-mate Device
1 0.8ohm NFIX Meshed Pods
1 0.8ohm NFIX DC MTL Pods
1 Lanyard
1 User Manual
2 Silicone Dust Caps
1 Cap Lanyard
1 Type-C Cable