Vaporesso Xros Nano Pod Kit In Pakistan:
With its modern design, the Vaporesso Xros Nano Pod Kit flaunts an urban appearance while incorporating the newest fashion trends. Furthermore compatible with other XROS series pods, so you won't have to bother about changing out cartridges.
For those who are constantly on the go or travelling, the XROS Nano Pod System is a great option because of its smaller form factor and compatibility with the XROS Pod Series. The proper amount of airflow may be chosen by users using an airflow control switch to enhance the flavour of their choice e-liquid or nicotine salts placed within the 2mL pod.
Vaporesso's XROS NANO is the most recent addition to the XROS line. It utilises the top-filling, SSS leak-resistant 0.8/1.2 ohm XROS series Pod. The precise airflow control valve on the mod can maintain consistent and superb flavour all the way through the last puff. In addition, the device's aluminium alloy design gives it a contemporary and fashionable appeal.
The XROS Nano provides amazing flavours from the very first puff to the very last thanks to the Pulse Mode driven by its AXON CHIP, delivering the ideal MTL vaping experience. It will keep you going for more than a day thanks to its 1000mAh battery capacity. Pakistan Vaporesso Xros Nano.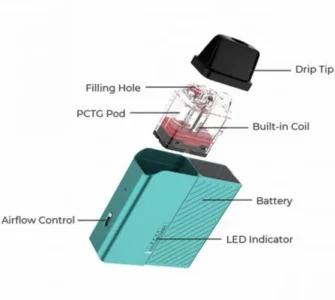 Xros Nano Features :
• Pod Full Compatibility
• Pulse Mode powered by AXON Chip
• Accurate Airflow Control
• SSS Leak-Resistant Technology
• Tiding Battery Indicator
• Clamshell Top Filling