Cubano Black by VGOD SaltNic is a revamped version of their popular Cubano flavour that now has more vanilla custard and a stronger stogie flavour. More nicotine for your low wattage device, more flavorful and luscious vanilla custard, and more strong tobacco. Cubano Black performs well in SaltNic 25mg, SaltNic 50mg, and Back in Black.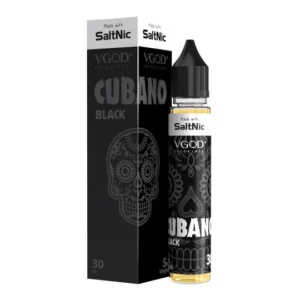 VGOD E-Liquid – Cubano Black SaltNic Features:
30mL Chubby Unicorn Bottle
70% PG
30% VG
Made in USA
Available Nicotine: 25mg, 50mg
CALIFORNIA PROPOSITION 65 – Warning: This product contains nicotine, a chemical known to the state of California to cause birth defects or other reproductive harm. 
VGOD – Cubano Black Salt Nic 30ML