Indulge in the rich and robust flavor of Cubano Black by VGOD. This premium e-liquid captures the essence of a fine Cuban cigar with a smooth and velvety twist. With every puff, you'll experience the deep and complex notes of tobacco, complemented by a touch of sweetness that will satisfy even the most discerning vapers.
VGOD is renowned for its exceptional craftsmanship and dedication to quality, and Cubano Black is no exception. This expertly blended e-liquid delivers a bold and authentic tobacco flavor that will transport you to a world of sophistication and indulgence. Whether you're a tobacco enthusiast or simply craving a luxurious vaping experience, Cubano Black is sure to impress.
The 60ml bottle provides ample supply to keep you vaping for longer, and the convenient dropper cap allows for easy refills. Each inhale will envelop your taste buds in a cloud of smooth and full-bodied tobacco goodness, while the exhale leaves a lingering sweetness that keeps you coming back for more.
Experience the pinnacle of tobacco-inspired vaping with Cubano Black by VGOD. Immerse yourself in the refined and captivating flavor profile that this e-liquid offers. Don't settle for anything less than perfection. Order Cubano Black today and enjoy the unparalleled taste of a premium Cuban cigar, elegantly captured in vape form.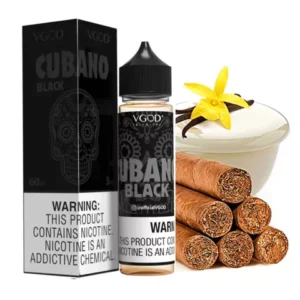 VGOD E-Liquid – Cubano Black Features:
Brand: VGOD
Flavor: Cubano Black
Bottle Size: 60mL
Bottle Type: Chubby Unicorn Bottle
VG/PG: 70/30
Flavor Profile: Tobacco / Cuban Cigar / Cream / Custard
Made in USA
Nicotine Type: Freebase
Available Nicotine Levels: 0mg / 3mg / 6mg
CALIFORNIA PROPOSITION 65 – Warning: This product contains nicotine, a chemical known to the state of California to cause birth defects or other reproductive harm.
CUBANO BLACK VGOD E-LIQUID 60ML