Fresh zesty lemons combined with icy mint and sweet fragrant honey together, will send your palate back to the very first time you waited in line for this cool delicious flavor.
The Tokyo range of e-juice always offers the freshest and most authentic flavour. Tokyo Salt Lemon Juice salt nic has a flavour of Yellow Lemon. Tokyo brilliantly utilises the lemon flavour with a powerful and mouthwatering scent that goes wonderfully with the chilled ice. The most evident benefit of Tokyo Salt is that the two flavors—harsh and cool—perfectly complement each other to provide a distinctive flavour in the Tokyo Salt Juices.
Every time you use this product for vaping, you'll get a completely new flavour sensation.
Every drop of e-juice rolls the sweet and sour notes together, stimulating your taste sensations like a glass of lemon juice does.
It will undoubtedly delight you and help you unwind as you inhale the delicious perfume of each fresh yellow ripe lemon clove that has been harmoniously mixed with the coolest ice cubes.
You will undoubtedly be happy if you own and use this fantastic product thanks to the magical hands of the Tokyo corporation.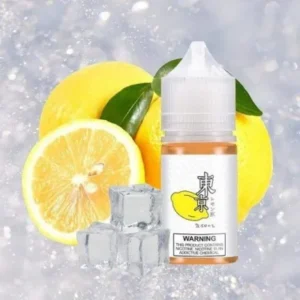 Features:
Flavor: Iced Lemon
Size: 30 ml
Nicotine Strength: 20mg,30mg & 50mg
Bottle Type: 30ml chubby Gorilla Bottle