Fresh honey peach explode with all-natural flavor. Sweet and refreshing, with high-quality ingredients and a delightful taste.
You may now enjoy the sweet pink peach flavor on your preferred pod systems in addition to holding, eating, or drinking chilled cups of peach tea. Another more enduring impression is that of vaping.
Saltnic Tokyo Iced Peach gives you a truly sweet sensation together with the coolness that hits the entire oral cavity. Add ejuice and take a few deep breaths. We continue to taste the peach flavour on the tip of our tongue and feel it all around us as we exhale.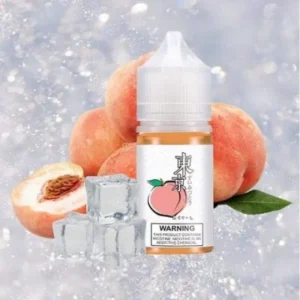 Features:
Flavor: Iced Peach
Size: 30 ml
Nicotine Strength: 20mg,30mg & 50mg
Bottle Type: 30ml chubby Gorilla Bottle