Discover Aloe Grape Salt by BLVK, combining the refreshing flavor of mellow aloe and sweet table grapes in a synthetic nicotine salt blend.
Experience the tantalizing blend of sweet and tangy grapes infused with soothing aloe vera in Aloe Grape by BLVK Nicotine Salt. This premium e-liquid is crafted with high-quality ingredients and designed to provide a smooth and satisfying vaping experience.
With a 50/50 VG/PG ratio and a 35mg or 50mg nicotine salt concentration, Aloe Grape delivers a satisfying throat hit and produces thick and flavorful clouds of vapor. The nicotine salt formula ensures a quick and efficient nicotine delivery, satisfying your cravings with every puff.
Whether you're a fan of fruity or refreshing flavors, Aloe Grape by BLVK Nicotine Salt is the perfect choice for anyone who wants to experience the perfect blend of sweet and tangy flavors. So why wait? Order your Aloe Grape by BLVK Nicotine Salt today and experience the ultimate vaping experience!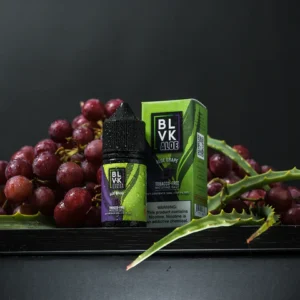 Aloe Grape Salt – BLVK Salt Features:
30mL Chubby Unicorn Bottle
Child Resistant Cap
50% PG
50% VG
Synthetic Nicotine Salt Formulation
Made in USA
Available in 35mg