With The Finest SaltNic Grape Menthol, you will taste delicious purple grapes with a cool menthol flavor. This is for you grape lovers who want more menthol kicks. When smelling, get a taste of juicy grapes and finish with a refreshing kick of menthol. As soon as you try this flavor you will be addicted to the delicious taste. Finest SaltNic Grape Menthol is available in 30ml and comes in the strength of Nicotine 30mg and 50mg.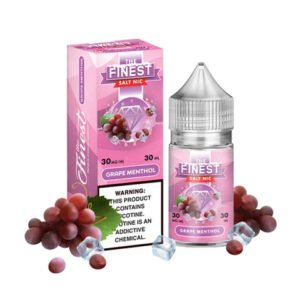 Grapes are beautiful, but do you know what they really are? This Grape Menthol Salt Nic Juice by The Finest, yes, offers a delicious and refreshing combination of juicy grapes and cool mint flavors. Bringing a vivid and uplifting vintage grape, The Finest's Grape Menthol Salt Nic Juice offers a delicious grape flavor that starts out strong and completes with a fresh and refreshing mint flavor. Satisfying from start to finish, The Finest's Grape Menthol Salt Nic Juice is a great choice for those who enjoy smooth and delicious e-liquid grapes with frosty, mint undertones.
Finest Grape Menthol Salt Nic Juice comes in a 30ml bottle of nicotine salt of your choice between 30mg (3.0%) and 50mg (5.0%) nicotine capacity. Don't have googly eyes for grapes? Take a closer look at our full selection of The Finest in Liquids, which includes both nicotine salts and freebase evape juices.
Grape Menthol – The Finest SALT NIC Series Features:
30mL Unicorn Bottle

Child Resistant Cap

50% PG

50% VG

Nicotine Salts Formulation

Crafted For Ultra-Low Wattage & Pod-Based System

Made in USA

Available 30mg, 50mg
CALIFORNIA PROPOSITION 65 – Warning: This product contains nicotine, a chemical known to the state of California to cause birth defects or other reproductive harm.
.