The Finest Salts is a salt-based nicotine product with higher nicotine concentrations and a softer throat hit. The quick bloodstream absorption rate of nicotine with a salt base in vapes is the key distinction. Although salt-based nicotine doesn't enter the bloodstream as quickly as combustible cigarettes, it does so more quickly than regular E-Liquid, which more closely resembles the rush from smoking.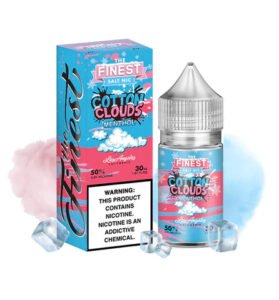 Cotton Clouds Menthol – The Finest SALT NIC Series Features:
30mL Unicorn Bottle
Child Resistant Cap
50% PG
50% VG
Nicotine Salts Formulation
Crafted For Ultra-Low Wattage & Pod-Based System
Made in USA
Available 30mg, 50mg
CALIFORNIA PROPOSITION 65 – Warning: This product contains nicotine, a chemical known to the state of California to cause birth defects or other reproductive harm.
.