The Finest Saltnic mango berry  30ml combines the tropical notes of exotic mango and sun-ripe strawberries to create a delicious, fragrant vapor that will satisfy your berry taste buds.
Beat the heat with this timeless classic fresh mint flavor, a unique flavor that embodies pure vaping happiness with Mango Berry Menthol from Finest SaltNic ELiquid. Mango berry  that warms the body all year round with the perfect combination of orange mango, bright red strawberry and cool menthol. Flavors: • Mango Berry Menthol Mango | Strawberry | Features of Menthol: • The size of the bottle is 30ml.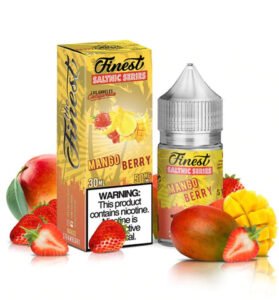 The Finest Saltnic – Mango Berry Features:
30mL Unicorn Bottle
Child Resistant Cap
50% PG
50% VG
Made in USA
Available in 30mg & 50mg
Warning: This product is not intended for use with sub-ohm devices. We recommend this e-liquid for use in vape pod mods and ultra low power atomizers/mods. Each nicotine salt e-liquid contains much higher levels of nicotine per milliliter, making it perfect for beginners or experienced e-cigarettes who want to travel.