Apple Bomb by VGOD SaltNic is a vapable rendition of sour apple belts dusted in sweet sugar, reduced down to a sensational elixir that will befuddle the senses with tasty apple flavored clouds.
VGOD and Salt nic are also paired to create an amazing combination of spices that will add to their already popular line of nicotine E-Liquids salt. APPLE BOMB – VGOD SALTNIC – 30 ML nic sweet, Granny Smith apple juice with a profile of refreshing light and fragrant aroma. Apple Bomb SaltNic for VGOD and is suitable for recycling devices, is available in Elite Cigs throughout Pakistan and is available in strength 25mg and 50mg of salt powder.
APPLE BOMB – VGOD SALTNIC – 30 ML kills the game when it comes to liquid nicotine salt. The 70-30 VG-PG rating allows the juice to bring its maximum flavor to each beat. If you are a fan of sour apples E-liquids than you will love the Apple bomb.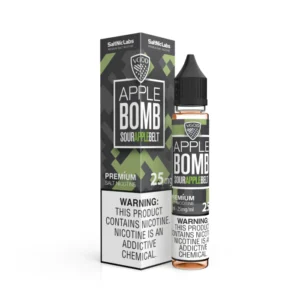 Product Features:
30mL Unicorn Bottle
30% PG
70% VG
Nicotine Salts Formulation Crafted For Ultra-Low Wattage
Pod-Based System Made in USA
Manufactured by SaltNic Available in 25mg, 50mg